Bifocal Lenses
For many people, different lenses are needed for seeing at different distances. Bifocal lenses allow the wearer to look through two areas of the lens. One area focuses on distant objects and the other is used for reading.
Most of the time the "reading" area is smaller, shaped like a sideways "D", and found in the lower hemisphere of the lens. These bifocals are called line bifocals or flat-tops. If you are focusing on distant objects, you look through the top half of the lenses. To read a book, magazine, or newspaper, you look through the "reading" area. One thing that is difficult about using bifocals is dealing with the line between the two vision areas. Fortunately, recent technologies have developed a new type of lens, called the no-line, or progressive, lens.
Progressive Lenses
A frequent concern with traditional lined bifocal and trifocal lenses is the problem of eye fatigue. It is difficult to switch from one focusing power to another. It can make your eyes tired, and it can even lead to a headache, sore neck and sore back.
The newest variation of bifocals and trifocals is the no-line lens or progressive lens. Progressive lenses provide a smooth transition from focusing on nearby objects to focusing on distant objects because they do not have a distinct line which separates the focusing powers. Instead, a gradual change in power allows the wearer to focus on objects at all distances. Distant objects are viewed through the upper portion of the lens, while near objects are viewed through the middle or lower portion of the lens. These are also great for computer users.
Advances in progressive lenses have produced lenses which have larger reading areas, more natural vision, less noticeable transition areas, and ease of adaption.
Anti-Reflective Coating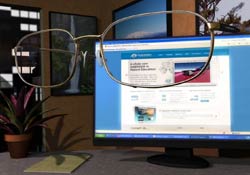 If you suffer from glare, reflections, or "ghost images," you may benefit from an anti-reflective coating on your lenses. For lenses without the coating, much of the light reflects off the lenses and may produce glare or reduce clarity of vision. This coating will make it easier for you to see and easier for others to see you.
Anti-Reflective coating benefits are:
Helps reduce eye fatigue during prolonged computer use
Reduces glare associated with night driving
Sharper Vision
Cosmetically more appealing by reducing reflections off the lenses
Scratch Resistant Coating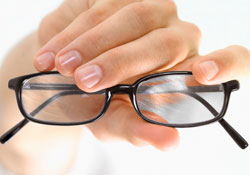 All plastic lenses are susceptible to scratches. Scratches damage the cosmetic look of the lenses as well as their performance. We recommended that ascratch coating be applied to all plastic lenses. At Madison Vision Clinic, we also offer a TD2 scratch coat. This scratch coating is tougher and will resist most scratches due to normal wear. The TD2 scratch coating is warrantied for 2 years against manufacturer defects, however, abuse or neglect is not warrantied. All lenses are susceptible to scratches, but a scratch coating will help resist scratches and extend the lifetime of your lenses.
Polycarbonate
The first and still one of the most popular high index lenses (plastic) is polycarbonate. It is very strong, very light, offers some resistance to scratches and is impact resistant. Most safety glasses and sports lenses are made of polycarbonate. In addition, the American Optometric Association recommends polycarbonate lenses for all children.
Trivex
This material is the newest in the lens category. Trivex is lighter and thinner than plastic, more durable than polycarbonate, tends to resist scratches more easily and offers better optics. Trivex is recommended for all rimless and drill mount frames as it is one of the strongest lens materials available. It is a great choice for safety for impact resistant eye wear.
High Index Lenses
High index materials are named because they have a higher index of light refraction.That makes high index lenses thinner and/or lighter than regular lenses. High index lenses, such as 1.60, 1.66, 1.67, 1.70, and 1.71, are much thinner than regular glass or plastic and are recommended with higher prescription lenses. Talk with your trained optician to decide which high index lens is right for you.
Photochromics
If you have ever felt frustrated at needing both prescription glasses and prescription sunglasses to accommodate an outdoor lifestyle, you should consider photochromic lenses. Photochromic lenses darken when exposed to UV rays and become clear when the wearer goes indoors where he/she is no longer exposed to the UV light rays.

There are a variety of photochromic options available. You can even choose the color of the tint. Ask your trained optician what options are available and what is best for your lifestyle.
Polarized Lenses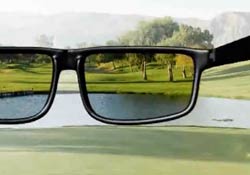 Glare from wet roads, light reflecting off other vehicles, and glare from your own windshield can be annoying and dangerous. To eliminate this glare, we offer polarized lenses. Polarized lenses eliminate almost all glare, reducing eye strain and increasing visibility. Polarized lenses are the most effective way to reduce glare.
Most glare comes from horizontal surfaces, so the light is "horizontally polarized." Polarized lenses feature vertically-oriented "polarizers." These polarizers block the horizontally-polarized light. The result is a glare-reduced view of the world. Polarized lenses can make a world of difference for any outdoor enthusiast. Fisherman can eliminate the bright reflections from the water and actually see into the water more easily than with other sunglasses, golfers can see the green easier, and joggers and bikers can enjoy reduced glare from the road. In addition, drivers can enjoy the safety and comfort that polarized lenses provide while driving.