As a fully licensed and equipped optometric practice, Madison Vision Clinic offers a complete range of eye care services to patients of all ages.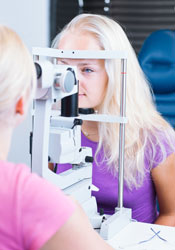 When diagnosing and treating typical vision disorders such as nearsightedness, farsightedness, amblyopia, presbyopia, or more complex disease processes such as cataracts, macular degeneration and diabetic retinopathy, Dr. Crabtree and her team are equipped to provide appropriate medical eye care with the newest techniques available.
Periodic eye and vision examinations are an important part of preventive health care. Refer to the general guidelines below regarding frequency of regular eye exams. The need for an exam varies with an individual's age, medical and family history, use of medications, and environmental factors.
First examination between 6-12 months age
Age 3
Before Kindergarten
School Age (6-18)– eye examinations every 1-2 years or at any time vision concerns are noted.
18-60 years of age- exams every 1-2 years depending on diagnosis
60+ - Individuals over 60 should be seen annually.
Contact lens wearers need regular annual examinations